hiking
There are a lot of fixed hiking trails in Spain. There are hundreds of them that range from 2.5 kilometers to 1280 kilometers. Walking and hiking in the mountains are two things that are relaxing, ideal for escaping the crowds and coming into contact with nature. Many of those hiking trails in Spain can be found in Andalusia. Walking is a popular activity in here. Andalusia has many beautiful walking routes. A real paradise for true hiking enthusiasts. Sun, sea air, forests, you will find it in abundance. In the summer you can participate in longer or multi-day hikes in the mountains. In less warm weather, the villages and towns and the long beaches on the Mediterranean are also recommended for a long walk.
.
The local authorities have provided a few routes for hiking in Mijas. A touristic walk around the town of Mijas Pueblo. But also some hiking routes in the mountains surrounding Mijas.
From the centre a hiking route is created in Mijas Pueblo. The start of this hike is at the tourist office. This office gives you free plans of the hikig tour with explanation in various languages of the 14 places your will see on your way. The museum of Miniature, the Plaza del Torros, The Mirador 'de la Sierra' from where you have a magnificent view. Do take your camera with you!
On Saturday mornings the touristic office organizes 'guided hiking in Mijas'. Free hiking tour with a guide that take you in the surrounding area and mountains of Mijas. These take place from October to May. You can also go hiking in Mijas on your own. About 7 routes are put on a map, that you can get for free from the touristic office in Mijas. The maps is clear and well indicated and you can plan ahead with the level of difficulty and average time for the route.
Good shoes and water are recommended. Once back in town you can rest and enjoy the local gastronomy.
Cycling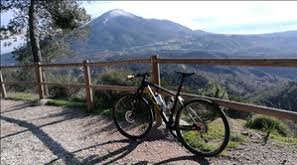 Pedal the steep slopes of ancient tracks, travel the open roads or take in the smells of the Mediterranean along the coastal paths.
There is a wide and varied selection of routes available, for all levels, across the countryside, through woodland glades that encompass epic climbs and thrilling descents as well as more gentle slopes in the Sierra Tejedas. Taking in miles of beautiful natural landscapes that stagger the senses amongst the clear mountain air.
Bicicletas Sol Y Mar Mijas, is a company that rents out bicycles and tandems for your holidays. Tonio and Anita run this bike rentals store with hart and soul. They have in total around 300 bikes for rent.
Mountain bikes, tourism bicycles, tandems and even little trolley bikes can be rented as of minimum of 2 days. If you like cycling, why not rent a bike for your whole stay? Tonio will bring your bike then even to your apartment or villa if you want. They have attention for every little detail and are available if you get a flat tire or any other issue with the bike. Each bike has their mobile number mentioned on it, and should you need to you can contact them and they will come to repair or replace your bicycle. That is service!
Another useful information is that they can provide you with great cycling plans to visit the area. Best routes to reach Mijas Pueblo, to visit the inland etc. For groups they also organise guided cycling tours in the area. What do you think of visiting Ronda and riding back to Mijas on a bike with guide who tells you more about the region and customs?
At Bicicletas Sol y Mar they help you in Spanish, English, French and German. The shop is situated in La Cala Mijas. Rates for a bike start at 8€ for 2 hours, 15€ for the day. Reductions when renting for several days. A tandem for 2 hours costs 12€. Enjoy cycling in Mijas and go to Sol Y Mar for your bike rental!
Adres: calle Tarajes 2
Website: https://www.facebook.com/BicisSolYMar
Would you also like to do a guided bike tour in Malaga or Marbella and to see the most beautiful places and sights of the country? We offer many different guided and thematically bike tours in Malaga, Marbella and Andalusia: tours through the historic city centre of Malaga, through the mountains around Malaga and the surrounding, tours in Marbella, culinary tours and different guided tours in Andalusia included transport and guide. Moreover we could plan individual and personal tours for you in different languages...
Website : http://www.biketoursmalaga.com/en/